Cirencester

01285 656 041
Kingston

0208 946 8336
5 Country Style Living Room Ideas
4 Jul 2022, 10:32 AM
5 Country Style Living Room Ideas

Your living room should be the space in your home where you can relax after a busy day, and if you are a fan of cosy country style, there are many design possibilities that will help you achieve this calming feel. Whether you are looking to create a relaxing snug or a large open-plan space where everyone can relax together, the colours, textures, and furniture you choose should be carefully considered.

Country style décor is as much about the overall look as it is about the lifestyle and the feel it creates, and this timeless style can be perfectly suited to both a rural country retreat and a busy city-centre flat. There are many variations of this versatile style, from romantic florals and vintage accessories to traditional panelling and rustic, more neutral designs.

However, the most successful country style living rooms are those which are able to perfectly combine both traditional and contemporary items, with a finish that is comfortable, timeless, and full of charm. We know how overwhelming it can be, so we have created a list of our top 5 country style living room ideas for inspiration.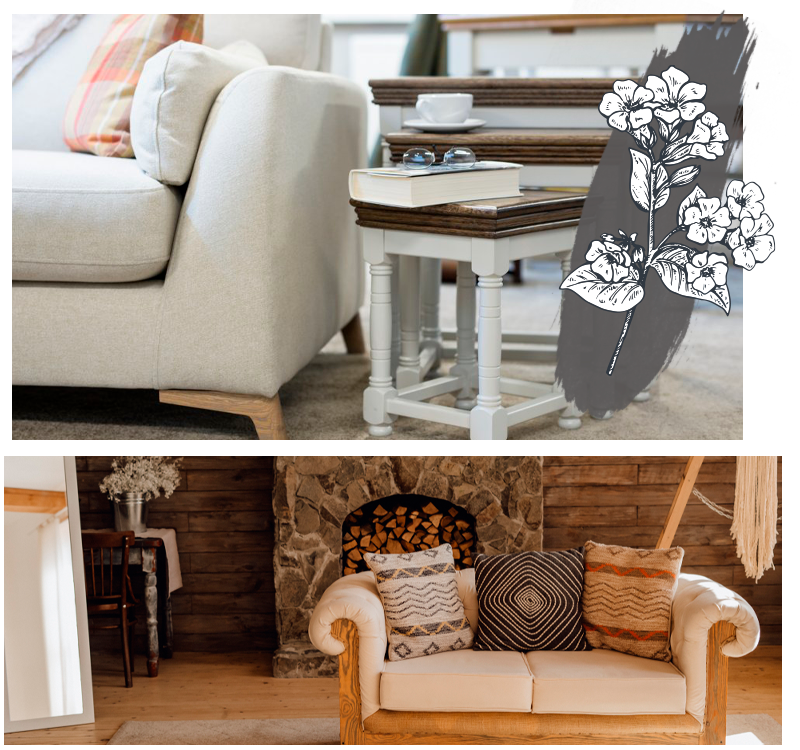 1) Paint with a neutral colour
Neutral colours are perfect for those who are looking to create a calm and traditional style living room, with shades such as taupe, ivory, beige and grey available in a variety of beautiful hues. We recommend choosing warm paint shades, which can be effortlessly paired with country living furniture room sets in colours such as ivory, cotton, clay, stone, cream and white.

By creating a gentle palette of neutral tones, you will have complete design freedom to add interesting textures, patterns, and colours within your room as your style evolves. One of the most beautiful features of a country style living room is the timeless feel, which can be easily achieved by combining decorative accessories you love such as vintage rugs, patterned cushions, and treasured antiques.

2) Inject colour with floral wallpaper
If you are looking to create a rustic cottage feel, floral wallpaper will add an interesting feature to your living room. When combined with neutral fabrics and cream living room furniture, the variety of colours within the wallpaper will echo around the room to create a naturally relaxing and rustic feel.

If you are planning on creating a contemporary country feel, stick to large, printed designs which will make a stunning feature wall, especially when paired with painted country style furniture, such as our painted sideboards.

Alternatively, for a more traditional feel, we recommend opting for soft colours with wallpaper designs that incorporate country flowers, birds, and leafy greens. This classic style will add a timeless finish to a country-inspired living room, and by opting for neutral background colour, the wallpaper can be paired effortlessly with timeless painted furniture.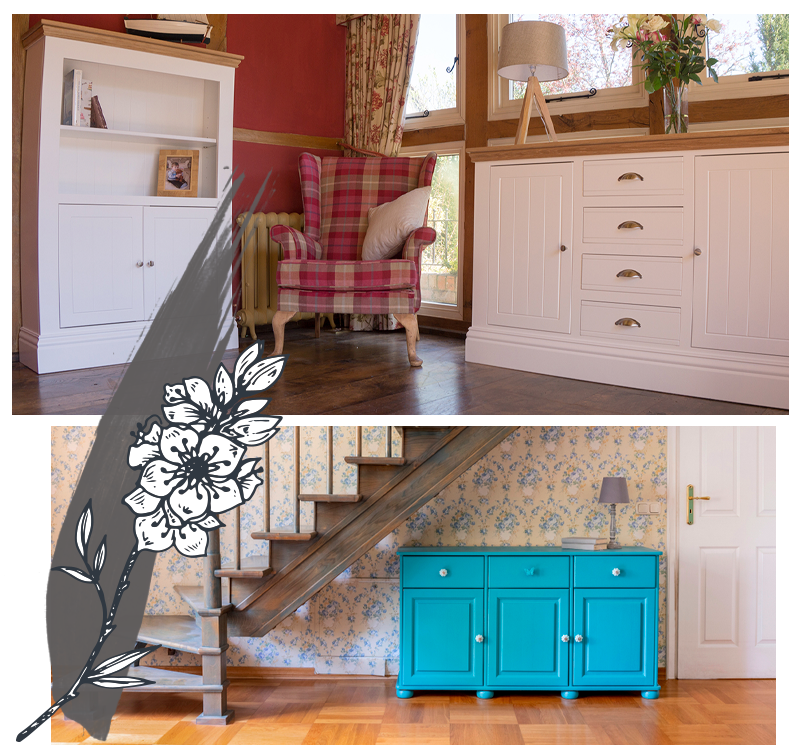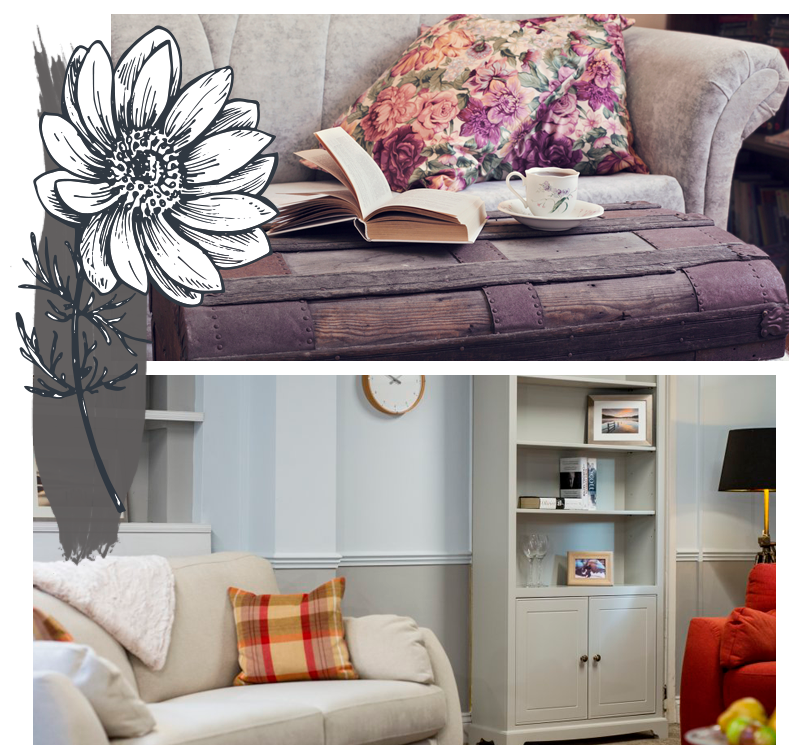 3) Play with textures
Layering various textures within the room will help to define your cosy, country feel, so try to incorporate a variety of materials such as wood, leather, wicker, and patterned fabrics. When it comes to dressing windows, for an elegant feel with country charm, try blending various neutral linens and wools, or for a more eye-catching finish opt for brighter colours and patterns.

Next, think about your cushions, throws and rugs, in general, rich colours such as deep red, charcoal and navy will create a warm country feel and when paired with painted country style furniture it is possible to create a stunning colour palette. There are so many furniture colours available that can enhance a country-style room, from pale creams through to darker greys that will create a bold more modern style.

A great example of a versatile collection of living room furniture is our Oxford living room furniture range, which achieves a brilliant balance of both contemporary and classic styling. These country living room furniture sets are available in a range of colours, with optional wooden finishes that are a great way to add to the texture and depth of your country style living room.

4) Bring nature inside
One of the most effective ways to create a rustic feel in a living room is to bring nature inside, so fill the room with flowers, foliage, and natural materials. Start by thinking about the colour scheme of your room, then choose complementary colours which add both depth and interest to your overall design.

A coffee table is a great spot for a floral arrangement that deserves to take centre stage, and cream-coloured roses, hydrangeas and lilies are all brilliant choices for a country aesthetic. Alternatively, for a side table think about creating a small arrangement that will act as a simple accent to the room, with flowers complemented by sprigs of green. Whereas, if you are looking to make a feature out of a shelf or fireplace, a botanical display with pops of colour will create an effortless country style feel.

Fresh flowers are stunning, but everything from your wall art through to your curtain design can incorporate botanical accents that will enhance your interior design. It is these small details that will turn your house into a home so that you can relax and unwind in your country inspired living room.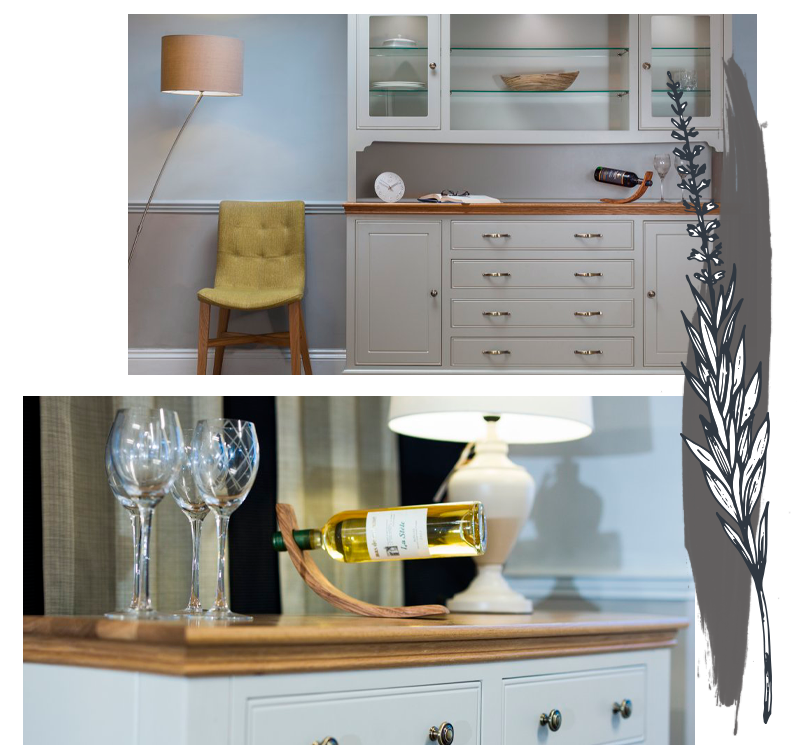 5) Incorporate painted living room furniture
Whether you are looking to create a cosy feel with darker furniture, or make a smaller room feel more spacious with light colours, the painted living room furniture you choose will define how you use the space.

When deciding which furniture to incorporate into the room, firstly you need to think about the size and layout of the room. For example, larger living rooms will need larger pieces of furniture, such as large sideboards, bookcases and dressers, as small items can easily be lost in a vast space. Next, you need to think about how the room will be used, with factors such as where a lamp will be needed and where drinks will be placed, often determining the types of furniture you need in your living room.

Finally, you need to decide on the design of the furniture, and for a country feel, painted furniture is often the perfect choice.

The Painted Furniture Company – High-quality country style furniture
Here at The Painted Furniture Company, we believe that you deserve a home that is completely tailored to your own personal style, which is why we have designed a versatile range of bespoke painted living room furniture. The various ranges we offer are a perfect combination of hard-wearing quality and timeless beauty, with pieces that are available in a range of beautiful colours.

As a small team, we are passionate about providing our customers with a bespoke service, and with every piece of furniture handmade in our workshop in the South West, you can be sure the furniture you order will benefit from our renowned attention to detail. If you would like to discuss your country living furniture ideas in more detail, please contact our friendly team today and we will be more than happy to explain the various design possibilities.

The Paint Room
View all the colours and wood finishes we have available for our bespoke furniture. Take a look and order your samples today.