Bedroom Layout Ideas
26 Aug 2021, 4:53 PM
BEDROOM 
layOUT IDEAS

It can be a perplexing process designing your bedroom, particularly where and how to place your furniture. With the help of our article, we can highlight the various ways to design the perfect bedroom layout to cater all types of bedrooms- from small rooms to attics. Designing and fitting a layout for your bedroom is about understanding what you want to accomplish in relation to the space you have to work with. Painted Furniture offers a wide range of handmade furniture to complete your desired bedroom layout.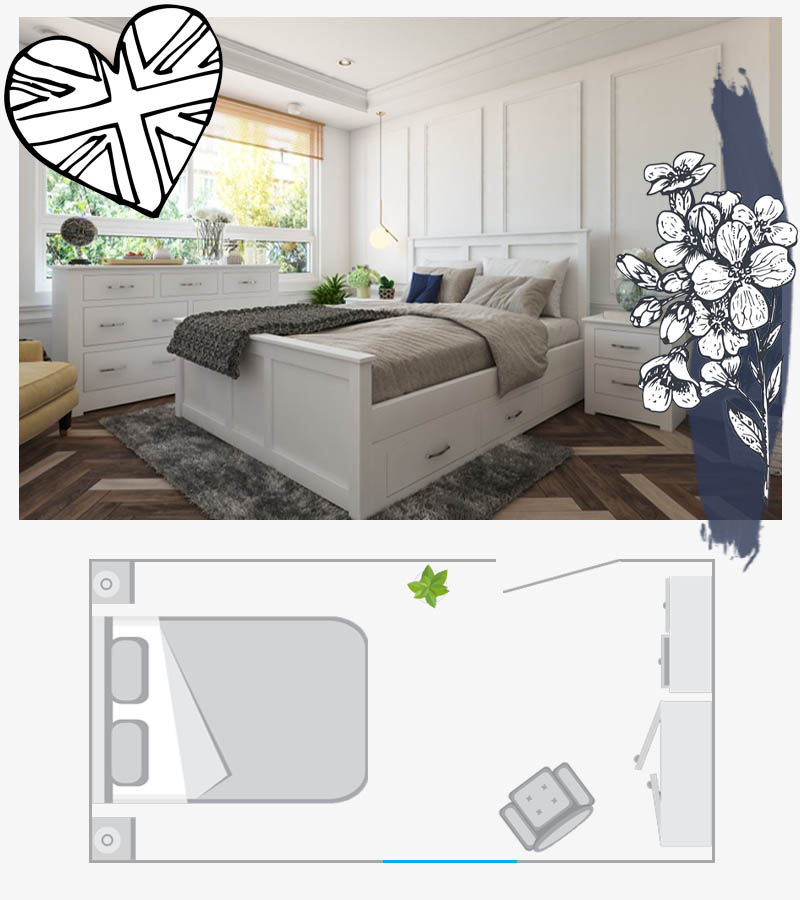 Feng Shui Bedroom Layout
The feng shui layout has been an ancient Chinese method for over 3000 years, achieving balance in your bedroom by governing how space is used. With the right spatial orientation, energy is balanced and can make a room more pleasant to be in, and particularly to sleep in. As the feng shui takes the quality of sleep to a deeper level, the layout is believed to enhance a night's sleep.

In this particular layout, the bed becomes the anchor of the bedroom. The feng shui believes the best place for the headboard of the bed is against a solid wall, as close to the centre of the room as possible. It is advisable to avoid placing the bed under a window unless the window can be completely covered with drapery at bedtime, and floor-to-ceiling windows should absolutely be avoided.

The feng shui bedroom layout also encourages balance with chests on both sides of the bed. Experts recommend leaving plenty of room to move around the space freely. Positioning the bed is the most important feature of the layout, with rules such as not being able to see yourself in the mirror when lying down, and not having the bed in direct line with the door, in order to respect the ancient method.

One of the frequently forgotten aspects of feng shui is air movement. If you layout your bedroom in such a way as to allow freedom of movement from bed to wardrobe to door, you will also get good air movement. Opening the windows on warm days will create extra energy that will make the space more enjoyable.

Explore Our Portland Bedroom Furniture Collection


Small Guest Bedroom Layout
Your guest bedroom is a place you want visitors to feel completely comfortable. As such, furniture layout is important. First, we suggest lighter colours for smaller guest bedrooms, by incorporating light grey bedroom furniture or anything in white. This idea gives any room a bigger feel to it by keeping the room light and airy.
‍
In a small guest bedroom, you may opt for a single queen bed or two singles. The latter option allows you to place a single bedside chest between both beds rather than requiring two bedside chests on either end of a single bed. However, two single beds are not necessarily conducive to couples. Therefore, including a single queen bed with fewer bedside chests will give couples the opportunity for a comfortable sleep as well as the right amount of space they need for a pleasant stay.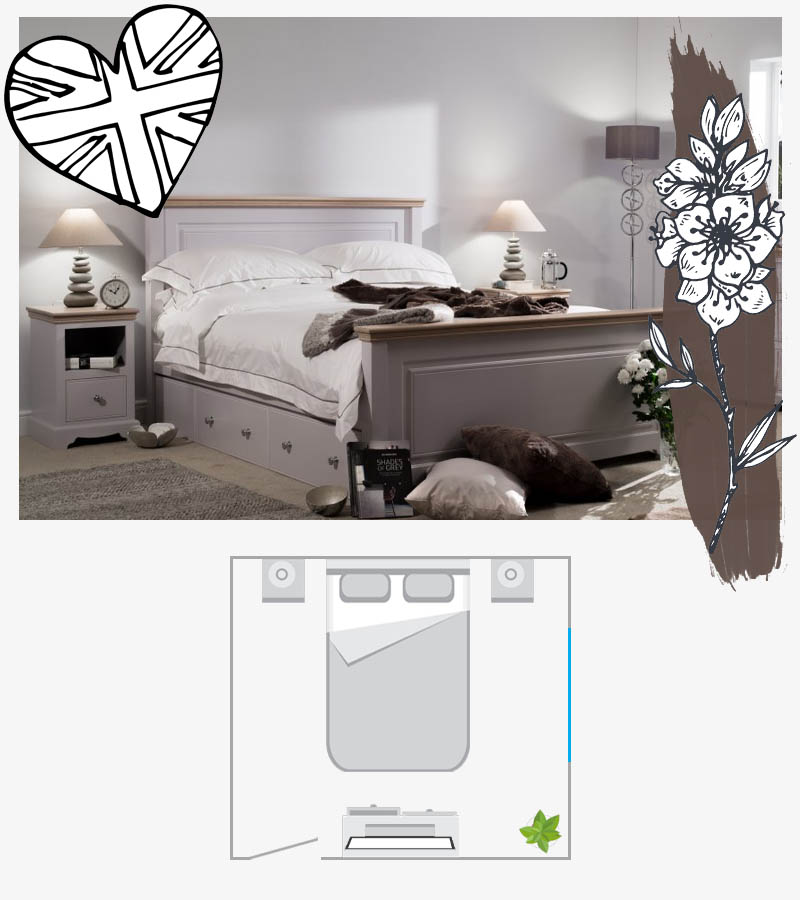 If you can avoid arranging the side of the bed flush with a wall, you will make the room feel more inviting. A small room that will not accommodate space on both sides of the bed can still be made to feel roomy by placing the bed against the furthest wall. Leaving plenty of room to open the door will help keep your guests from feeling cramped.

In terms of storage, it's important to consider if your small guest bedroom will require a closet. If so, a single chest of drawers placed against the wall perpendicular to the bed may be all you need, or you could opt for a set of low wardrobes. The lower height makes them less imposing in bedrooms with limited space.

Explore Our Oxford Bedroom Furniture in Norfolk Grey


Very Small Bedroom Layout
Your home may have one or two very small bedrooms that don't leave much room for creativity. You may  prefer a large painted chest of drawers along with a full wardrobe, but ensuring you can fit these in with such a confined space can be difficult. Well, there are many ways around your dilemma.
‍
Firstly, choosing a painted bed frame with storage built into it will be most beneficial for such a small bedroom. Doing so eliminates the need for both a chest of drawers and a wardrobe. If you need specific bedroom layout ideas for using storage beds in small rooms, don't hesitate to ask.

Even very small bedrooms still require adequate space to move around, this means having to limit the amount of furniture you utilise in the bedroom to retain enough space for comfortability. Being particular with what furniture is necessary or not is key to creating space. For example, a tabletop lamp can be replaced with an installed overhead light to prevent cluttering. Another way to save space is to raise the frame on your bed, creating more space for storage underneath. The placement of your furniture is also something to be considered. It is important to keep furniture away from the door to guarantee easy egress in the event of an emergency.

Explore our Island Breeze bedroom furniture collection.


Master Bedroom Layout
Master bedrooms tend to be the largest bedrooms in UK homes. These days, it is not unusual to have a master suite including sleeping space and an en suite bathroom. With its extra space, they are easily accommodating of large beds, and the choice to utilise both wardrobes and chests of drawers.

It is generally recommended that the bed be placed on an exterior wall near the centre of the room. This is so the headboard doesn't butt up to a wall adjacent to the bathroom or closet. Placing it near the centre of the room allows for plenty of space to move around- as well as extra room for furniture!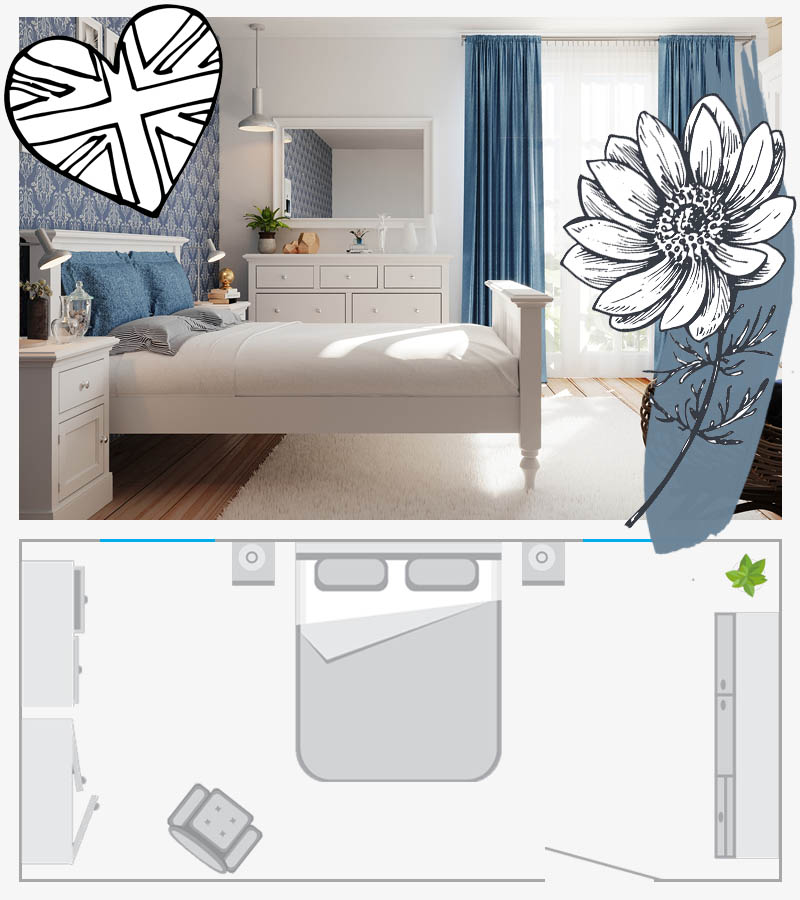 There are various furniture pieces that can be placed around the bed in a master bedroom with plenty of space available. Painted blanket chests are ideal furniture pieces to place at the foot of the bed, and on either side, bedside chests can be placed. For those with a painted wardrobe, consider placing it in the corner furthest from the door, angled across the corner, or perhaps install a walk-in closet, to maintain a spacious bedroom.

Since master bedrooms tend to be large, it is not necessary to obsess over light colours. Grey bedroom furniture is certainly appropriate, but so are earth tones and cooler colours. The one thing to remember with master bedrooms is that they can feel too large when light colours are combined with lightly coloured furniture. You can make a large master bedroom feel cosier by adding furniture and artwork or going with a darker colour scheme.

Take a look at our Millbrook Bedroom Collection in a range of different colours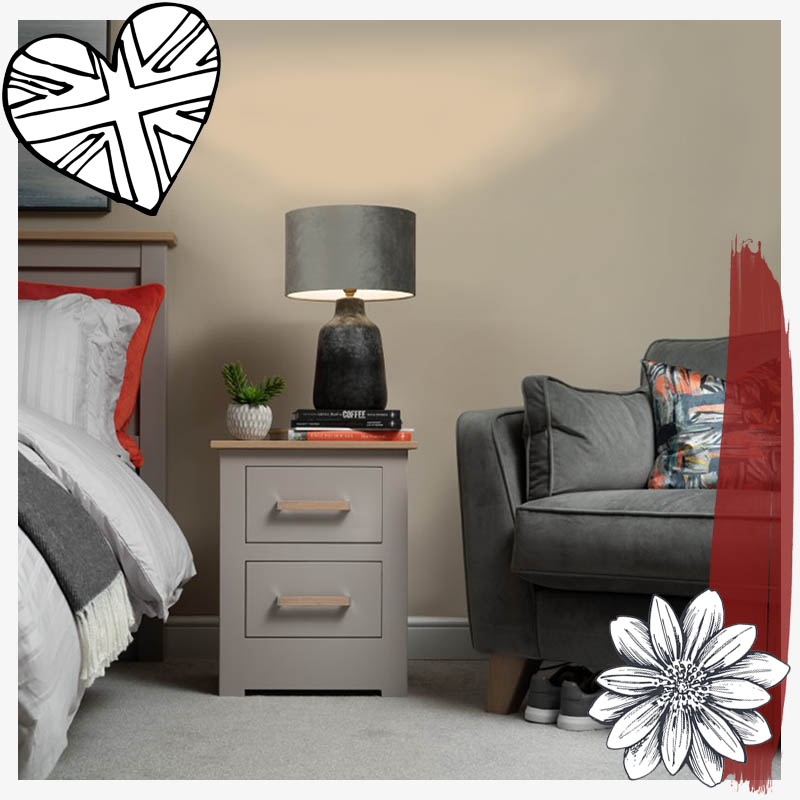 Adding Sofas and Chairs
If any bedroom in a house can accommodate sofas and chairs, it is the master bedroom. With many different master bedroom layouts to choose from, such as a single sofa flanked by two beautifully hand crafted painted wardrobes. The arrangement directly opposite the bed balances a large room nicely.

 A chair in the corner can also nicely complement a bedside chest on one side of the bed. If you have the space, another chair in the opposite corner provides balance to the master bedroom.

Discover our Portland Bedroom Furniture


Square Bedroom Layout
Believe it or not, square bedrooms are often the most challenging to lay out, with the difficulty of making the bedroom symmetrical. When trying to fit a rectangular bed into a square room and still achieve balance around doors, windows, and closets, there are many things to consider to achieve the spacious yet cosy bedroom look.

One suggestion is to place the headboard against the same wall as the main door. This reduces the visual imbalance when you first walk into the room, and it also keeps the bed away from windows – at least in most bedrooms. If the room is big enough, you can achieve some balance with a chair or two in the space between the foot of the bed and the opposite wall. If not, a blanket chest or chest of drawers at the foot of the bed accomplishes the same desired look.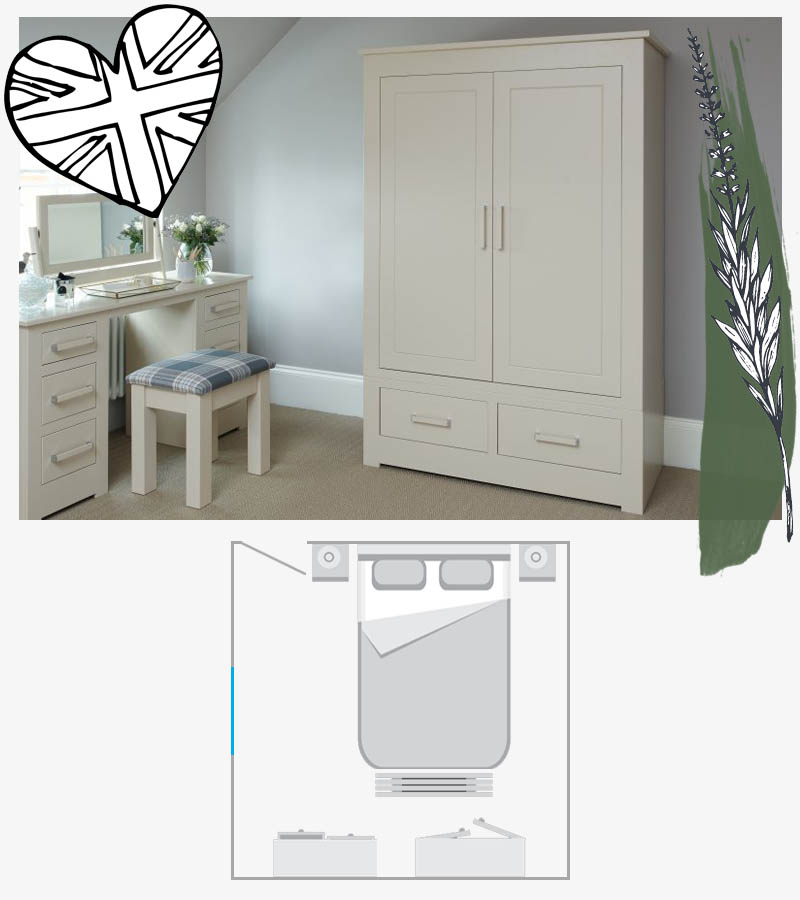 Square bedrooms tend to be very accommodating to painted wardrobes in the two corners opposite the bed. If wardrobes are not needed due to a walk-in closet, chests of drawers with lamps create a very nice look. Remember that it is best to keep furniture away from windows, especially if the windows provide balance from side to side, in order to achieve the balanced look in your bedroom.

Explore our Portland Wardrobes from our Portland collection


Rectangle Bedroom Layout
Rectangular bedrooms tend to give you the most options for layout and design. The question is whether you want to focus on the length of the room or its width. If you like a longer look, place the bed against one of the narrower walls. This will give you a wide-open space to work with from the foot of the bed to the opposite wall.

A focus on the width of the room would call for placing the bed against one of the longer walls. But be mindful of the window positioning in your bedroom. Longer walls in rectangular bedrooms tend to house the windows- if you have two windows, placing the bed between them works fine. But a larger, single window could force you to place the bed directly under it, which might not be conducive to good sleep.

Rectangular bedrooms accommodate chests of drawers and wardrobes quite easily when the focus of your layout is length. In a width-focused layout, large wardrobes can look out of place, so try to keep both wardrobes and chests of drawers away from closet and bathroom doors. If space limits your layout, the shortest pieces of furniture should go nearest to the doors.


Long, Narrow Bedroom Layout
If you are working with a long, narrow bedroom, this can often be one of the most difficult layouts to work with, but with our expertise you can fulfil the perfect bedroom look. Your first priority is to guarantee easy egress in case of emergency- this will dictate placing the bed at some distance from the door.

If you have a king or queen size bed, this could limit the places where you can put it, however a location at the opposite end of the room from the door is ideal. All of the wall space along the length of both walls invites the placement of wardrobes and chests of drawers. You may even have room for one or two bedside chests, depending on the width of the space.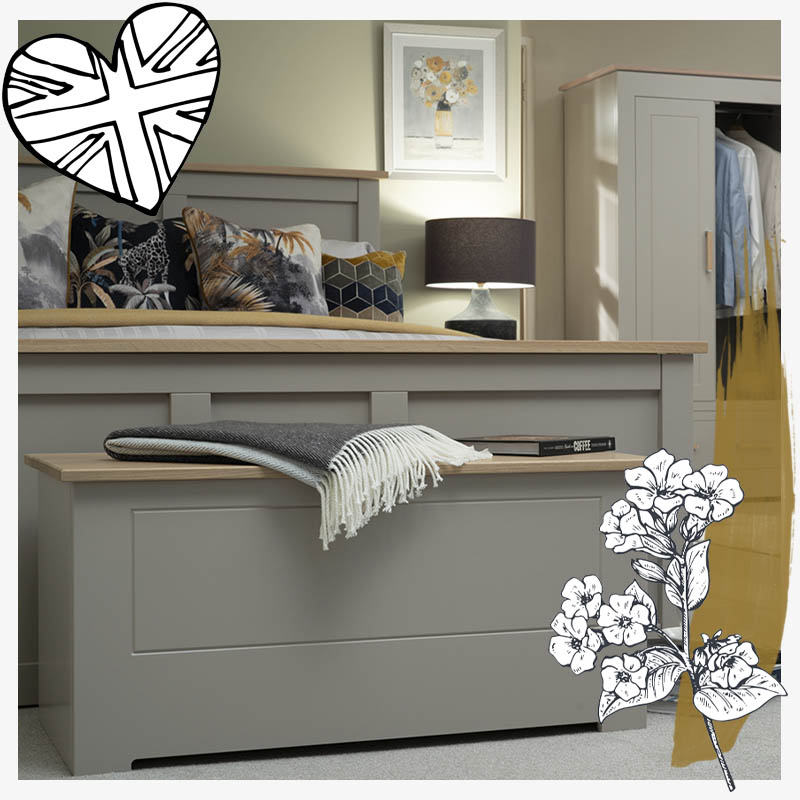 Unfortunately, long, narrow bedrooms do not accommodate a width-focused layout very easily, but there are other layouts that can make it work, such as the lengthwise layout. This will help maximise space without inhibiting movement.

You could consider a blanket chest at the foot of the bed for storage, which may eliminate the need for two wardrobes. If you bought a chest of drawers, placing it on the wall opposite the door keeps it out of the way. As for furniture placement in relation to windows, you will probably not have many choices. The big thing to avoid is placing large furniture pieces directly in front of windows, thereby blocking natural light.

Explore our Portland Blanket Boxes from our Portland collection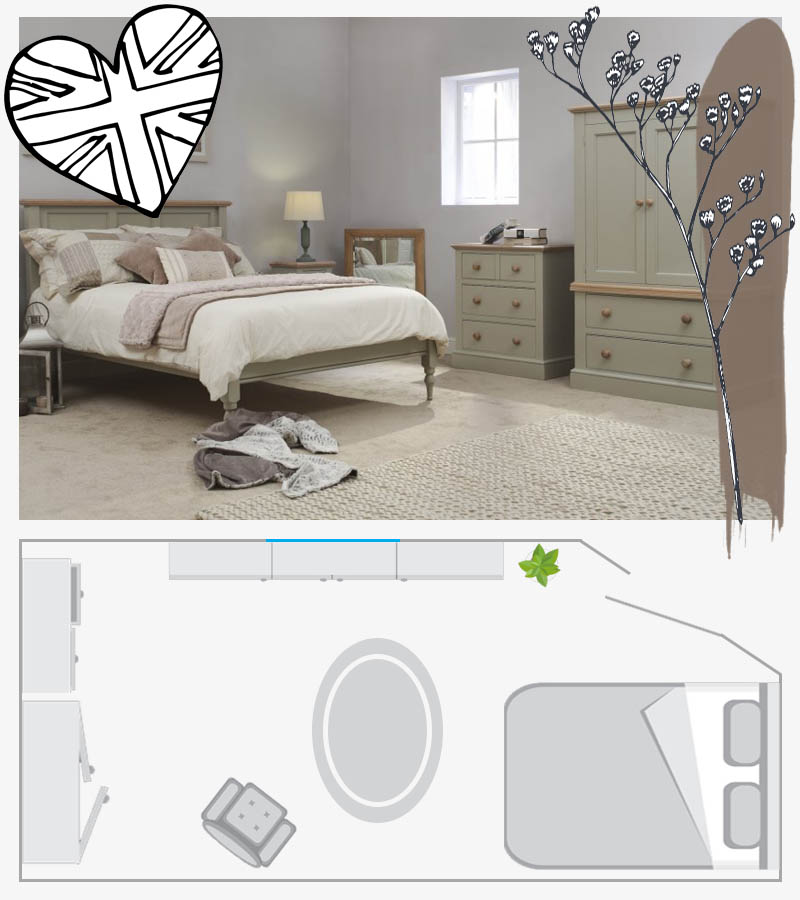 Attic Room Bedroom Layout
Last but not least, is the attic converted into a bedroom. Your layout in this type of room will be influenced by several factors that don't exist in other bedrooms. Right from the start is ceiling height- your attic ceiling might be sloped on one side or both. If so, consider placing the bed under one of the low points. This will allow you to save the areas with the greatest height for activities that require standing up.

You might also consider low wardrobes for clothing storage. They are smaller in terms of total storage area, but the lower height makes them more manageable in attic spaces. Ventilation may also be an issue in the attic. Therefore, keeping furniture away from windows is important. The one exception is the bed- placing the bed under an attic window offers the opportunity for cool evening breezes that could help you sleep better.

Light colours will also go a long way toward making a small attic space appear bigger. You also want to pay attention to how the space is accessed. For example, some attics are naturally split by a staircase that rises directly in the middle. This sort of arrangement allows you to place the bed and bedside chest on one side of the space and the rest of your furniture on the other side, to ensure a spacious room.

Explore our low wardrobes from our Millbrook Bedroom Collection


Handmade Furniture in Limited Spaces
A common thread in all of these bedroom layout ideas is maximising the use of limited space. One of the big benefits of handmade bedroom furniture is that you can get it in the exact dimensions you need to accommodate the space you are working with. And of course, handmade furniture from Painted Furniture Company can be customised in colour, finish and if required, dimensions with our bespoke furniture service. You may have to try out several layouts before you figure out what works best for your bedroom type, but following or guidance will ensure you have the perfect bedroom- whatever the type may be.

Explore Our Bedroom Furniture