Cirencester

01285 656 041
Kingston

0208 946 8336
How to Style Your Sideboard
16 Mar 2023, 2:23 PM
How to Style Your

Sideboard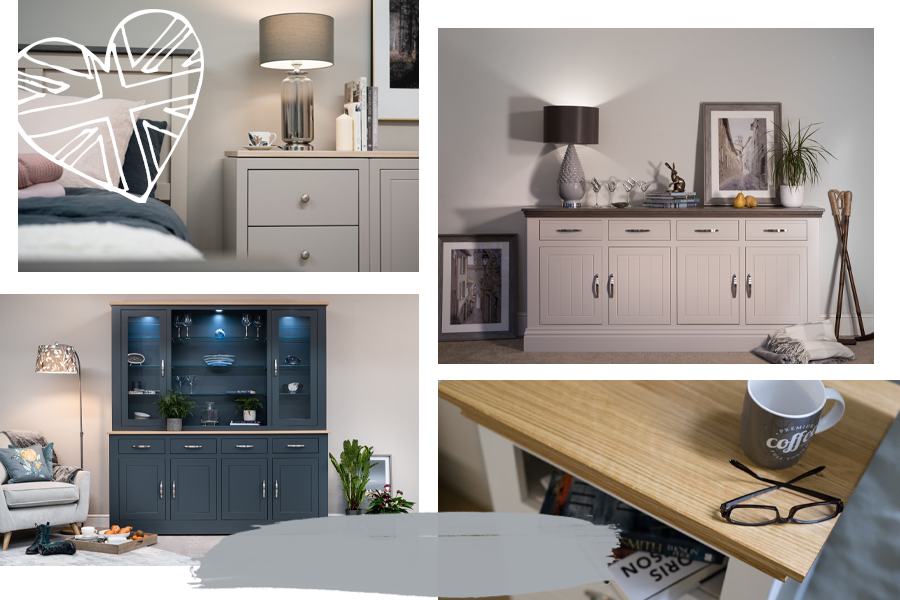 Sideboards can be attractive and functional furniture for lots of different spaces throughout your home. Despite this, many people find it challenging to style their sideboards successfully and make them a cohesive part of the décor. Wherever it is in the home that you've placed your sideboard, there are some helpful styling tips that mean it'll really enhance the room. Keep reading for our advice on how to style your sideboard.

Create Symmetry
When you have plenty of space and want a refined look, creating symmetry using two small sideboards can be clever. Make sure that the two sideboards are matching for the optimum effect. This approach is ideal for filling the alcoves on either side of a fireplace and can be a great look for bedrooms or living rooms.

It's not only the sideboards themselves that you can use to build symmetry. You might choose to create even more of a mirror image by using similar types of decorations on each sideboard. If you're going for a look that's symmetrical but not too formal, you could include different décor pieces on each one.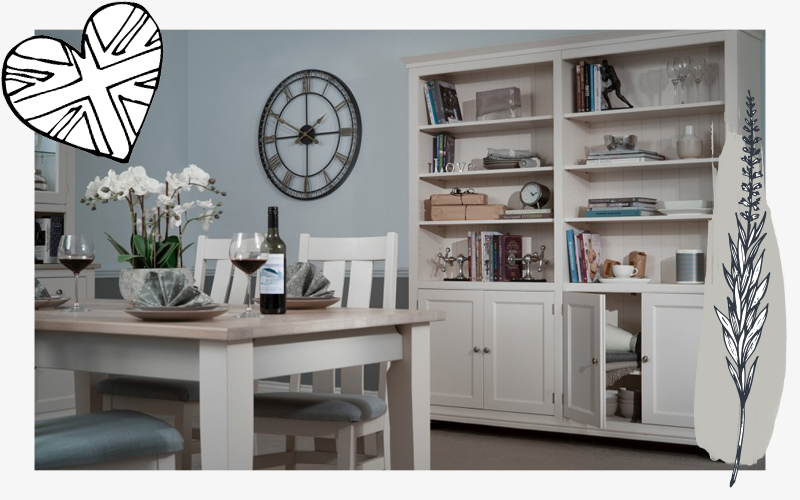 Display Trinkets
One way to instantly re-style your sideboard and add a personal touch is to display your favourite trinkets. Depending on the size of the sideboard, between three and five items is usually enough to add character without overcrowding the area.

You can be imaginative with what you use here. Vases, small knick-knacks and statues, decorative containers and bowls, candles and framed photos are all great options. Bringing together a few of these items gives your sideboard a really personalised look. Styling it in this way works for any space around the home.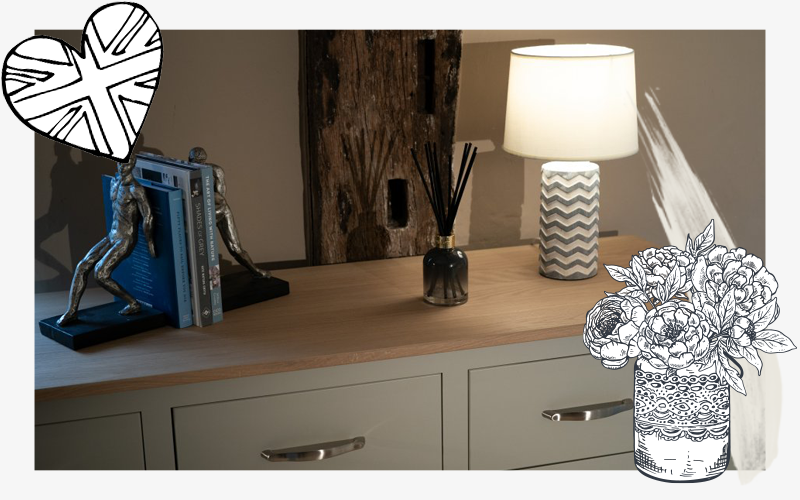 Add Depth With A Mirror
Adding a mirror to any part of the house creates depth and gives the illusion of more space. Mirrors can be a great addition to any area, but the added depth might be useful in narrow hallways. The wall space above your sideboard is the ideal place to hang a mirror.

Mirrors come in a vast range of shapes, sizes and styles, so you can find one that's a good match for your space, whatever your style is. It's often smart to choose mirrors that fit with the style of the sideboard and overall décor. This creates a cohesive look across the whole space. It's important to still create a balanced composition – avoid choosing a mirror that's very large and heavy if your sideboard is small or delicate.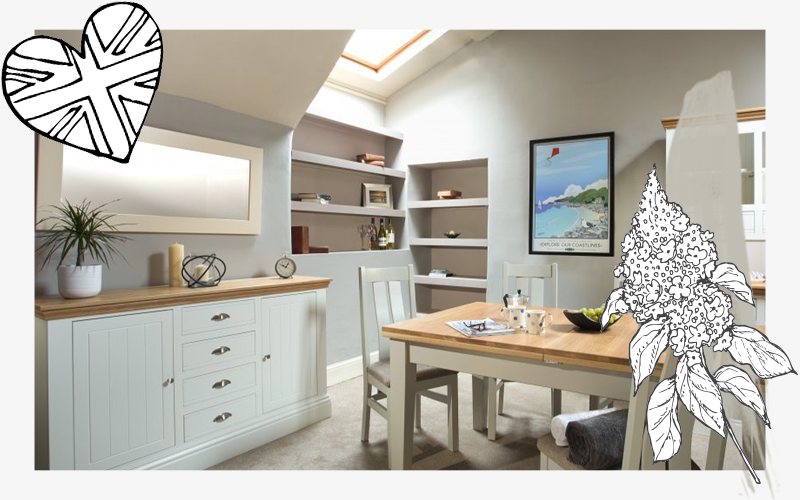 Add Art
Art is great for jazzing up any space and showcasing your personality. Sideboards give you extra space for small pieces of framed art or personal photographs. You can also use the wall space above your sideboard for larger pieces of framed art or canvasses. Using art to enhance your space works in any area of the home. It can be an inviting look for a hallway or bedroom.

Another option is to create a gallery wall above your sideboard, curating a number of pieces of art and hanging them together for a dramatic look. You can get creative with how you organise the pieces. Because gallery walls create an eye-catching look, they might work best if you're not adding too many trinkets and objects to the sideboard. This allows the art to really command attention.

Add Florals
Fresh or artificial flowers are great for brightening up the home and can be used in different locations. They can be especially pleasant in dining rooms and living rooms, and artificial plants and flowers can even be a great addition to bathroom décor. Your sideboard can be a great place for displaying vibrant flowers, updating the look every time you add a new bouquet.

If you'd prefer a more rustic style, dried floral arrangements are a great option. These can work in kitchens and dining rooms. Another benefit is that dried flowers have more longevity than fresh ones. Whatever type of flowers you choose, you can complement them with floral artwork around your sideboard.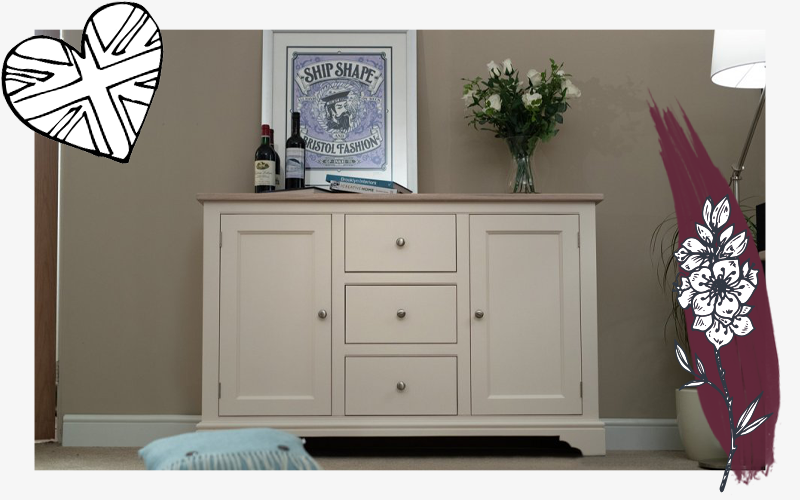 Make It Practical
Your sideboard can be functional as well as stylish. For sideboards in places like your hallway, you can style them with practical touches. Consider adding an umbrella stand, coat stand, or wall hooks next to the sideboard, or adding a bowl for keys on top of it.

Another way of making your sideboard more useful is by choosing a design that offers additional storage. This can be valuable anywhere in the home. For storing prized items like special crockery or glassware, glass-fronted sideboard cupboards are a fantastic solution.

Add Lighting
Lighting can draw the eye to your sideboard and create more atmosphere in the space as a whole. You could choose wall lights or statement light fixtures close to the sideboard – this will automatically help your sideboard to attract attention.

Alternatively, the sideboard is the ideal surface for a table lamp. Table lamps can be used anywhere but are great for hallways, living rooms and bedrooms, creating a softer, more intimate feel.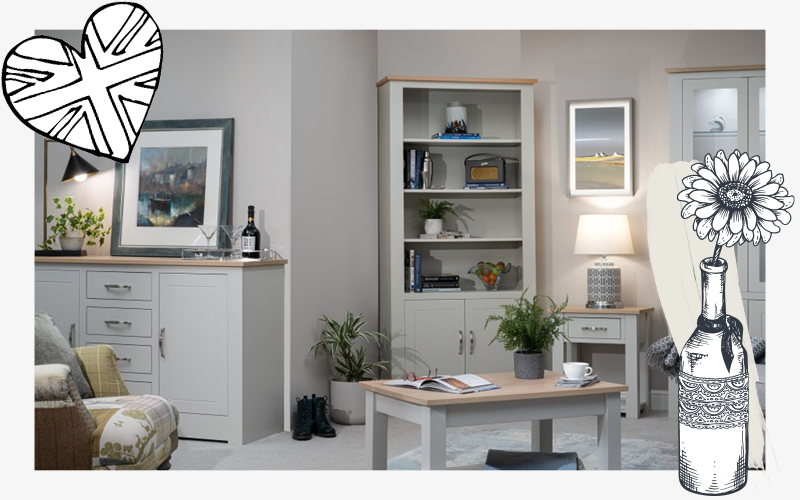 Use Natural Materials
Use natural materials if you're aiming to create a rustic look.

Natural materials like wood, rattan and fibres can be incorporated into your decor in so many different ways. Dried flowers are great for this look, you could add a narrow rattan table runner or a rattan table lamp, or decorative objects and picture frames made from natural materials.

Be Creative
You don't have to stick with just one look for your sideboard – feel free to be creative. You can switch up your décor seasonally or to coincide with special events, or just whenever you fancy refreshing the look. Again, this is a useful tip for sideboards anywhere in the home but can work really well in locations like the living room or hallway.

Simple ways to get creative with your décor include changing the artwork or photos you have up to reflect the seasons; adding floral touches that suit the time of year or occasion, for example, poinsettias for Christmas; or using seasonal trinkets and ornaments. Getting creative and changing your décor now and then keeps the sideboard looking exciting and means it will keep attracting attention. It's also a great way to experiment and decide which decorating solutions work best.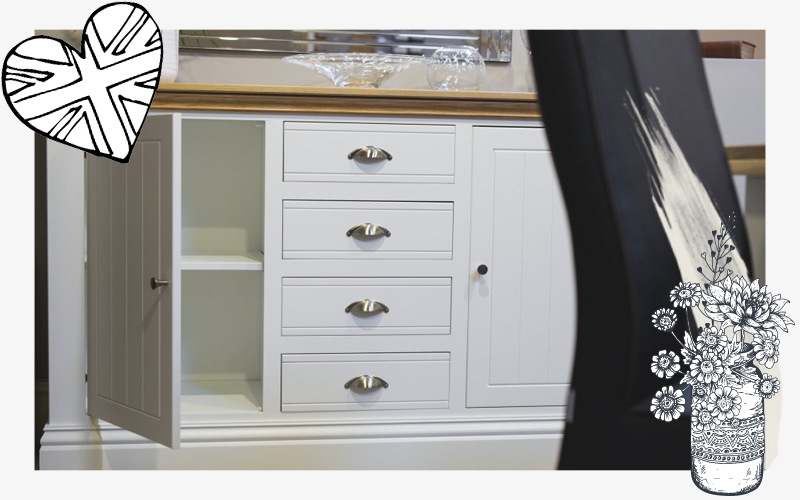 Here at Painted Furniture Co we offer an abundance of painted sideboards and dressers in various styles and available in various beautiful colours. If you're considering adding another sideboard to your home, enjoy browsing our beautiful options.

The Paint Room
View all the colours and wood finishes we have available for our bespoke furniture. Take a look and order your samples today.