Interior Design Trends - From Mid-Century Modern 1940s to Present Day 2021
23 Feb 2021, 2:12 PM
Design trends

A Timeline from Mid-Century Modern to 2021
Interior design, like fashion, shifts with the ages: trends are influenced by everything from the ebb and flow of world politics to the changing social mores of the day. Throughout the years, our homes have reflected these changes as we cover last decade's trends with the latest looks, updating how our interiors represent our tastes.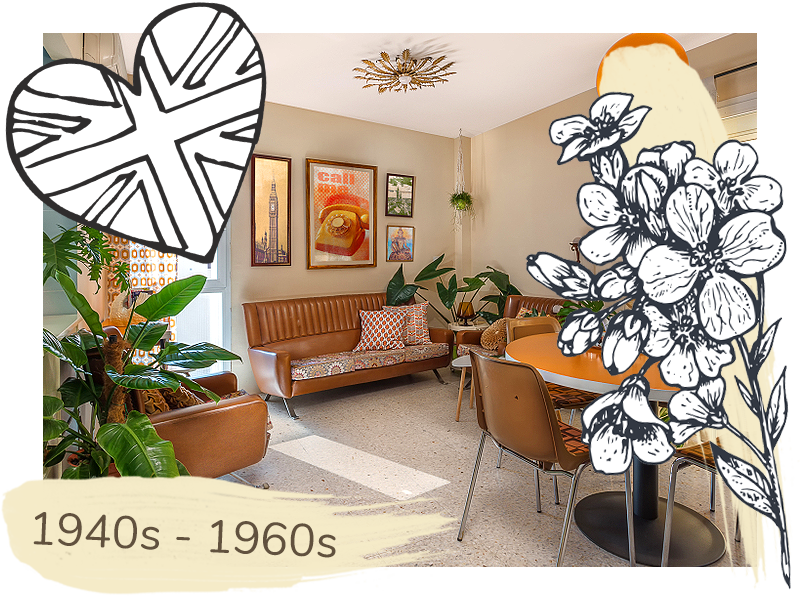 A key moment for interior design in recent history, the mid-century modern movement is an ideal place to start a timeline of the last century's design trends. Inspired by the pre-war Bauhaus movement, mid-century modern design balances simplicity and function - clean lines, furniture curved designed to mirror the body's natural shape, and natural materials were the order of the day.
‍
Many of the period's designers - Ray and Charles Eames, Arne Jacobsen, George Nelson - became household names, revered for their timeless designs. But it isn't just the clean, instantly-recognisable lines of MCM furniture that defined the era. Architecturally, the period saw vast panes of glass that allowed nature and light into homes and open plan living, while the decor trends shifted through the decades. The fifties saw Atomic Age-inspired designs and bright pops of colour - a departure from the relatively more staid Forties. By the Sixties and Seventies, wood panelling, shag carpeting and psychedelic abstract patterns in rich oranges and browns were ubiquitous, and the now-iconic lava lamp took up residence in millions of homes.


Step forward into the Eighties and our tastes shifted again. Interior trends were less uniform in this decade, with several very different styles coming into play. One which many of us will remember as a true marker of the era is the luxe patterns of chintz paired with soft pastel tones: think Laura Ashley and a hyperfeminine feel. A far cry from mid-century modern's minimalism, this look was all about softness, and its sweeping curtain swags and wallpapers alike were intricately patterned and cosy.
Dovetailing with this homely style was the trend for a country aesthetic: recall quaint kitchen tiles decked out with rural scenes or farmhouse imagery and cottage-style cupboards. This look evoked a traditional, rustic feel and - for many of the Baby Boomer generation, who were in their home buying (and decorating) heydey in the Eighties, it is still the most popular aesthetic
‍
On the opposite end of the scale, the 1980s also saw what came to be known as 'Memphis Design' - begun as another take on a rebellion against minimalism. Bold neon colours, blocky furniture with unusual lines and a distinct 'Saved by the Bell' feel typified the Memphis Design movement: a far cry from the natural tones and sleek understatement of the decade before. This trend was fun, bright, and is, even today, instantly recognisable as hailing from the 1980s.
‍
Honourable mentions for this decade include lucite furniture - everything from moulded chairs to coffee tables came in this on-trend transparent plastic - and entertainment units, as homes began to acquire sizeable sound systems and ever-growing televisions (plus space for all of your videotapes, of course!).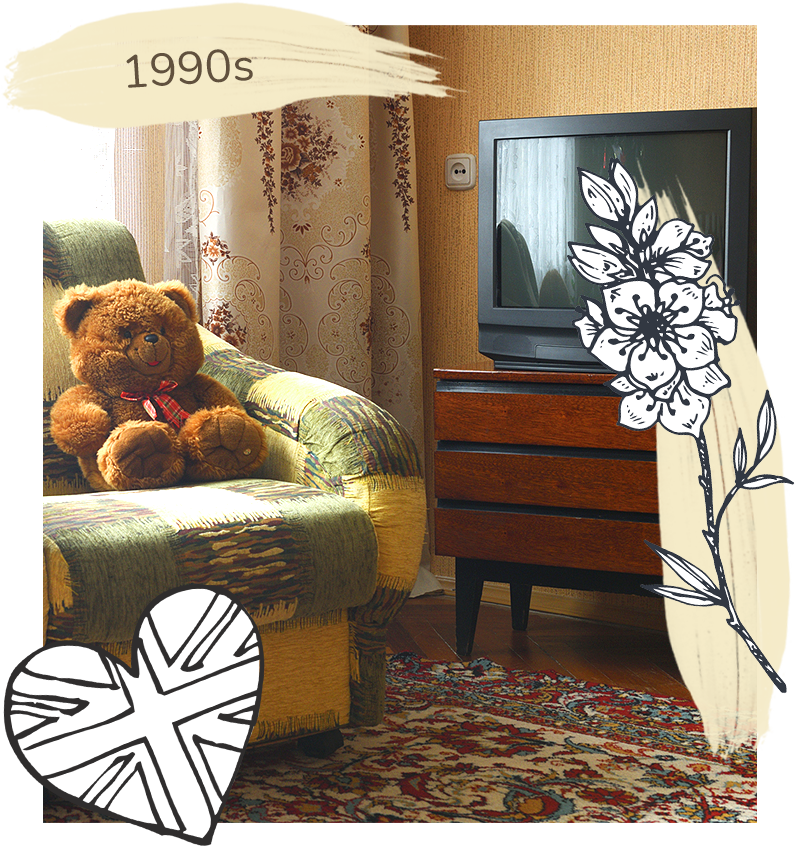 Cast your mind back and picture a typical 1990s home - what is the furniture made of? If you instantly thought 'pine', you wouldn't be alone: this decade saw this inexpensive and adaptable wood explode in popularity, with entire bedroom suites fitted in pine with ornate pewter or brass handles. A warm-toned varnish was common, so the decade was characterised by an orangey glow from the sideboards, TV units and wardrobes in many homes.
‍
The late nineties saw an explosion of colour come into our homes, too - who remembers Changing Rooms and their kaleidoscope of red, purple and bright blue rooms? We started experimenting with colour in big, bold schemes that were finished off with other nineties hits such as wavy CD racks, inflatable sofas and floral wallpaper. Another curious trend in the 1990s was a huge wave of popularity for all things celestial. Sun and moon imagery was everywhere in the decade, from wallpaper (and the much-loved nineties borders, which were a staple of interior design at the time) to bedding and wall hangings. Usually featuring a deep, night-sky blue with stylised yellow sun and moon motifs with faces, this look had a boho air and was usually accompanied by incense and crystals to complete the alternative look.

Lastly for the Nineties, a nod must go to the ingenious techniques we employed with paint. The love of borders and visual flourishes on our walls made stencilling enormously popular at the time, and sponge painting was also a common feature: in fact, the two were often seen together. Sponge painting gave walls a textured look, which was used to great effect in the 1990s and hid a multitude of decorating sins - no wonder it was popular!


As we step forward into the new millennium, so trends change again. A new phrase enters the lexicon of all interior designers, amateur and professional: shabby chic. This trend is a combination of two things - a boom in DIY projects, as we learn the term 'upcycle', and a kind of updated version of the Eighties cottage aesthetic, updated for the new millennium.
‍
Based primarily around painted furniture, soothing pastels and off-white tones, often with a gently distressed finish, became popular giving a welcoming, homely look that is still bright and fresh. The soft and feminie look was completed by the kind of soft furnishings that would make one picture a country fair on a summer's day - soft, muted florals and ginghams adorned everything from cushions to entire sofas. 
‍
Sticking with light and bright colours, the 2000s also saw a tiny revolution in the kitchen. Gone were the darker wooden cabinets of previous decades and in came gleaming white, often paired with granite worktops. The piece de resistance for this decidedly-different look was the stainless steel appliances, which became a staple in the world of kitchen design.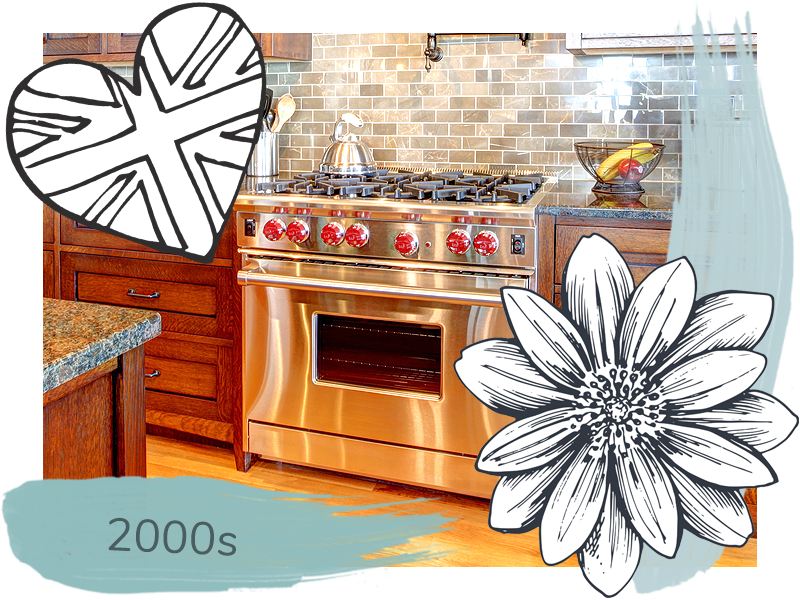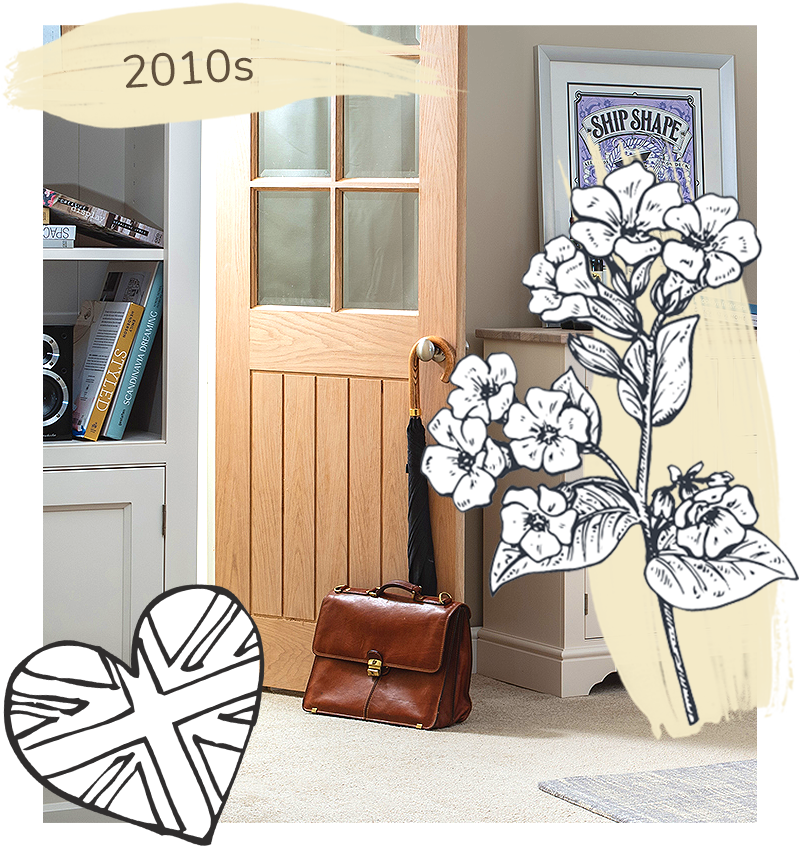 If we were looking for a visual cue that interior design has come a long way since the psychedelic patterns of the Sixties or loud, pop-art colours of the Eighties, the popularity of grey in interior furnishings would be it.
‍
Since the mid-2010s, we have come to adore grey for its adaptability. Bright, cool pale greys in a bathroom or kitchen, or stormy, cosy charcoals in a bedroom or living room: an entire palette lies within the colour grey. Highly pigmented blue-greys add depth to a room, while softer greys with brown undertones are ideal for adding warmth - in fact, as we've explored in our recent Colour Trends research, the UK is now one of the only countries where grey has surpassed white as the bedroom colour of choice! Our living spaces, especially, have become the centre of this new trend, with grey living room furniture seeing a huge boost since the late 2010s - often in a variety of styles.
‍
While we have been busily filling our homes with a wash of beautifully neutral greys (and modern off-whites and pastels, too), we have also been borrowing other design trends to accompany our more neutral backdrops. Grey bedroom furniture has become increasingly popular over the past decade, which against the backdrop of neutral walls, gives a two-tone twist on the wooden furniture we loved a few decades ago, yet brings the look sharply up to date. Similarly, we have fallen back in love with mid-century modern styles, combining their sleek likes with the Scandi term 'hygge' to create an aesthetic that is part-classic, part-contemporary - and entirely beautiful.

What next?
It remains to be seen where interior design trends will go, but it appears to be true that interior design trends have slowed down, somewhat. We have become conscious consumers: we know the effect our changing trends have on the environment, and we have begun to seek timeless pieces in soft neutral shades. With well-made furniture that's built to last we can be assured that our furniture will stand the test of time.
‍
Explore our British handcrafted painted furniture on our website and be assured that our furniture has been crafted to last a lifetime.