Picking a Colour Scheme for Your Next Home Decor Project
30 Oct 2020, 6:10 PM
Picking a Colour Scheme for Your
Next Home Decor Project
Colour choices play a critical role in the success of any home décor project. Why? Because colour is the first thing your eye notices when you walk into a room. How different colours play off one another creates a first impression that affects your perceptions of everything else. As such, picking colour schemes is a lot more important than most people know.

So, how do you pick a colour scheme for a new project? There is no black-and-white (pardon the pun) method we can recommend. But we can offer some practical suggestions that might help. If all else fails, just remember that you can never go wrong with white.
Creating a Colour Palette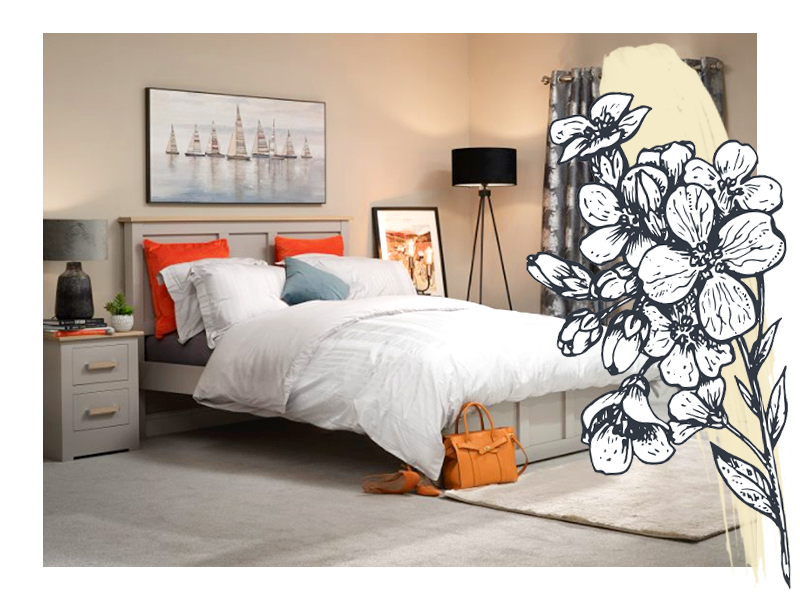 The first thing to do is create a colour palette or two. A colour palette is a selection of colours you think go well together. It serves as a basis for determining different shades, tints and textiles. For example, you might create a white and grey palette to start with. You wouldn't be too far off the beaten track in doing so.

We did some research and discovered that UK homeowners have preferred white and grey palettes over most others for the last five years. Historically speaking, white and grey have been popular worldwide for more than 20 years. They are especially popular in the bedroom.

You can go online and find plenty of free tools for creating instant colour palettes. You choose one or two primary colours and let the pallet tool do the rest. You will get a whole range of colours, shades, and tints to think about.

Discover our Portland Bedroom furniture collection
Move around your furniture
The colour wheel is a scientifically developed illustration of how assorted colours interact with one another. Interior designers and artists use it quite a bit. A basic colour wheel is divided into 12 hues, three of which are primary colours. There are also three secondary and six tertiary colours.

You can use the colour wheel in a number of ways. Here are few examples:


Complementary – If you are looking for dynamic colours that complement one another nicely, choose two hues directly opposite on the wheel. Blue/orange and red/green are two examples.

Monochromatic – A monochromatic scheme relies on different shades and tints of the same colour. A black/white or black/grey colour scheme would be considered monochromatic.

Analogous – The analogous colour scheme offers a bit more contrast than monochromatic, but still works with similar colours on the wheel. A good example would be orange/yellow.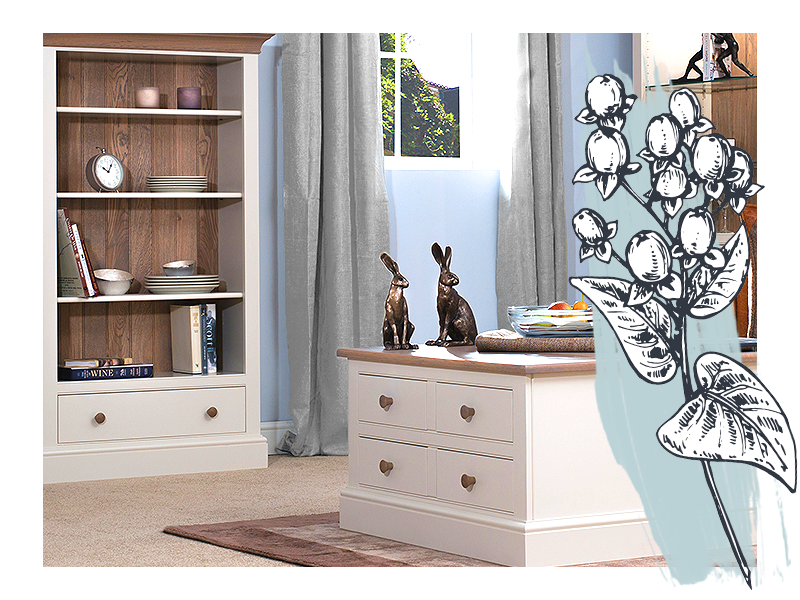 One of the big benefits of using the colour wheel is that you can apply your choices to an online pallet tool for a range of choices across a much broader spectrum. Simply put, combining the colour wheel with a pallet tool maximises your choices.

Choose Colours That Appeal to You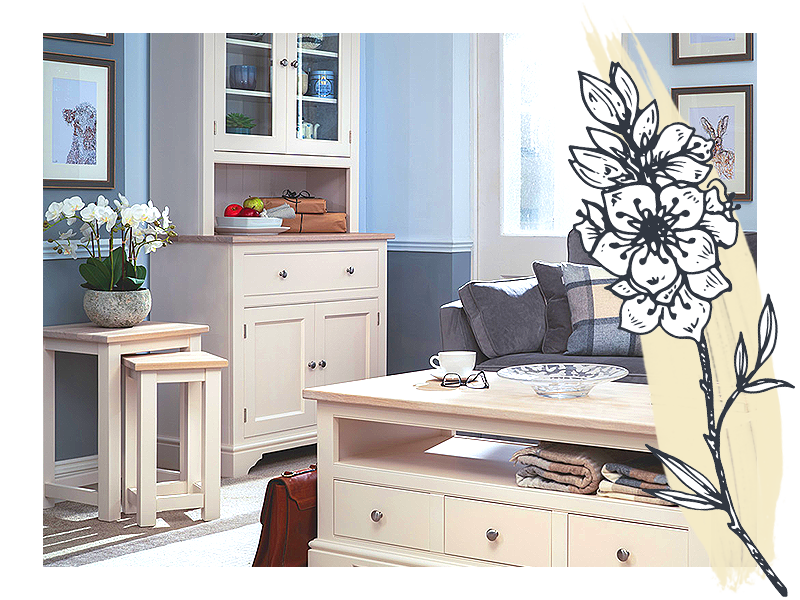 All of us are drawn to certain colours. Your favourite colour might be purple while your partner's favourite is blue. Maybe the kids prefer green. The one thing to remember is that you ultimately have to live with the choice you make. So don't pick a colour scheme based on trends alone.

If a particular trend does not appeal to you, don't go with it under the assumption that it will eventually grow on you.

Warm Colours vs Cool Colours
For many people, the challenging thing about picking colour schemes is deciding between warm and cool colours. Warm colours generally consist of different shades of orange, red, and yellow. They are called warm colours because they evoke images of other things that we know to be warm, like sunlight.

Cool colours are typically different shades of blue, green, and purple. These are colours that remind us of things like the sky and ocean. These colours are ideal for smaller rooms that you want to appear larger because of the way they recede into the broader visual spectrum.

Imagine remodelling your bedroom. If you prefer the cool look, don't be afraid to embrace grey bedroom furniture. If you are looking for something warmer, yellows and browns work very well together.

You can mix warm and cool colours for an entirely distinctive look. Perhaps a grey with an orange or a pale yellow with a bright blue. Mixing cool and warm colours adds a certain vibrancy to a room. Such combinations are common in the Caribbean and Indian Ocean regions because they remind people of the tropics.

Consider the Rest of the Décor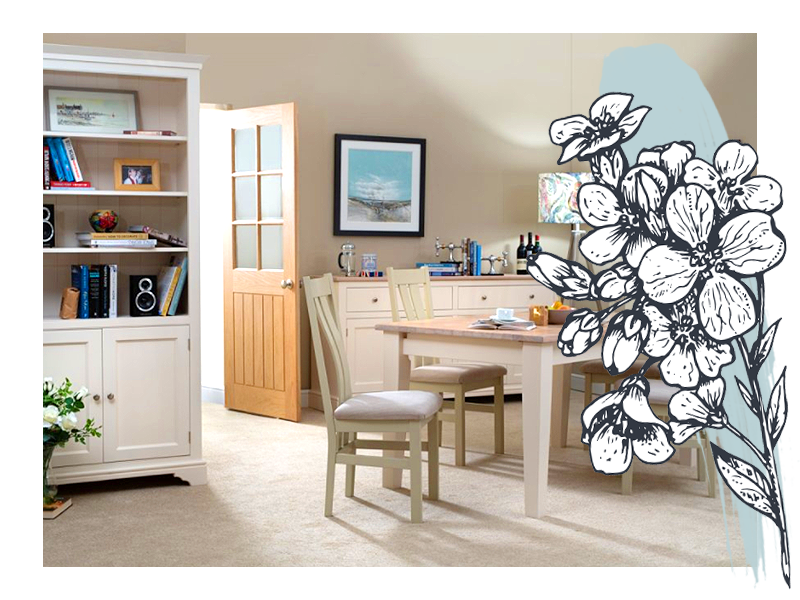 Finally, consider the rest of the décor you will be working with. Look at your artwork, any textiles or window treatments you plan to use, the colour and tone of the floor, your existing furniture, and so forth. Those things you already have to work with might automatically disqualify some colour schemes simply because the contrast is too great.

Explore our Amberley Living Room Furniture Collection
FAQs
What are the most popular paint colours for 2021?
Our research indicates that the two hottest colours for interior decoration in the UK right now are grey and white, respectively. The top five are rounded out by pink, black, and navy blue. The same five are at the top of list worldwide, but white supplants grey as the number one choice.

Explore Our Grey Painted Furniture & White Painted Furniture

What paint colours go with grey furniture?
Grey is a fantastic colour for furniture because it is neutral enough to support a full range of complementary colours. Some of the best colours for complementing grey furniture are dusty pink, rose gold, navy blue, yellow, and chartreuse green.

What colour furniture goes with grey walls?
If you are looking for furniture to complement grey walls, start with white. Any tint of white works just fine with grey. If white is not your thing, stick with neutral browns, greens, and soft blues.

What colour goes with grey flooring?
If it's a light grey floor we recommend darker furniture to provide that missing definition, such as dark blues or steel grey.

What colour walls go with cream furniture?
Once again, grey is an excellent choice here. It offers a calming effect in conjunction with cream. If you want something a bit warmer, an orange-brown or lavender works well. Choose emerald green, navy blue, or a dark slate for a more cool look.

Can you combine cream and white?
Most style experts do not recommend combining cream and white. Why? Because the two colours don't offer enough contrast to provide depth of field. Everything in the room will sort of blend together in one big mass, making the space feel very empty and unwelcoming.

Here at the Painted Furniture Company we offer a complete range of colour choices covering everything from Millbrook White to French Grey to Cloud and Truffle. Be sure to look through all of our colour choices when you shop for the perfect furniture for your home.