Cirencester

01285 656 041
Kingston

0208 946 8336
Bring Your Home Up To Date With The Latest On-Trend Pantone Colours For 2023
3 Jan 2023, 3:01 PM
Bring Your Home Up To Date With The Latest On-Trend Pantone Colours For 2023

Pantone has revealed the colours we will all be coveting for our interiors in the coming seasons so let's take a look at how we can practically add these beautiful tones to our homes.

Daring Green
There's nothing quite like adding a dramatic colour to update your living space and a beautiful rich, deep green is a great choice. Straight from the catwalks of London Fashion week, Pantones Colour Choices for Autumn/Winter 2022 are a tale of two halves, and this confident shade definitely falls into the side of 'bold and daring' for times when we want to inject some excitement and personality into our interiors. Green has been a growing trend for kitchen cabinetry lately, and these beautiful tones are sure to stand the test of time with their obvious link to creating feelings of nature, a trend which has shown great staying power since the pandemic.


Just Peachy

While terracotta is having something of a moment, it seems the 70s are back and we can't get enough of shades of orange in general. For those wanting something a little softer, look no further than the gentler hues of Pantones luscious 'Peach Caramel'. Named as one of their five 'Core Classics' these colours are described as 'Classic, seasonless hues whose versatility express longevity'. This warm, pretty shade would work well in a living room, especially when complemented with accessories or soft furnishings in accent colours such as grey or green.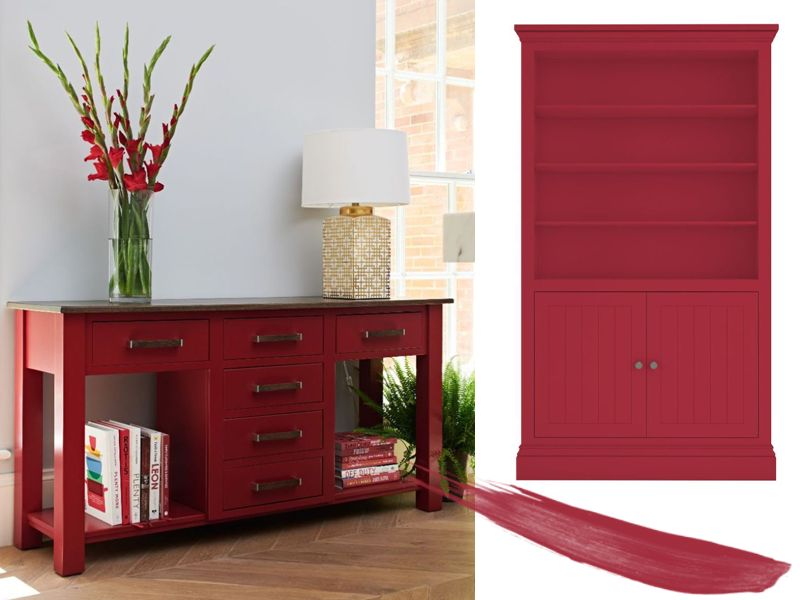 Red Hot

"Fiery red is great for creating real wow-factor whilst at the same time adding warmth for the colder months. For most of us, it is best used as an accent colour and a stand out piece of furniture in a brilliant red will be just enough to make the right statement. Red pairs well with natural materials such as wooden flooring, chunky wool throws and plant-life to soften the look and create a homely feel. Sitting opposite blue on the colour wheel, red also looks great paired with navy, creating a modern high-end feel." says Adam Brown, MD at The Painted Furniture Company. While Pantone's shade of red - Molten Lava - is perhaps not the best shade for drifting off to sleep in a bedroom, this stand out colour would be sure to brighten up any other room from kitchens and hallways to home offices and dining rooms.


Pretty in Pink

Once confined to little girls bedrooms and nurseries, pink is really having a moment (thank you Barbiecore!) and Pantone predicts this pretty delicate shade will be delightfully adorning our interiors well into 2023. We mentioned earlier that this years colours are a tale of two halves and their sweet 'Strawberry Cream' shade falls into the calmer, tranquil half for those times when we turn to our homes for a bit of comfort and reassurance. Pink has become popular all over the home and this versatile colour can be used in so many ways. Great for softening a black interior scheme, it also pairs well with touches of gold for a touch of glamour. Pink and grey is a popular choice for creating a soothing bedroom or mix with accents of red for a punchy tropical vibe.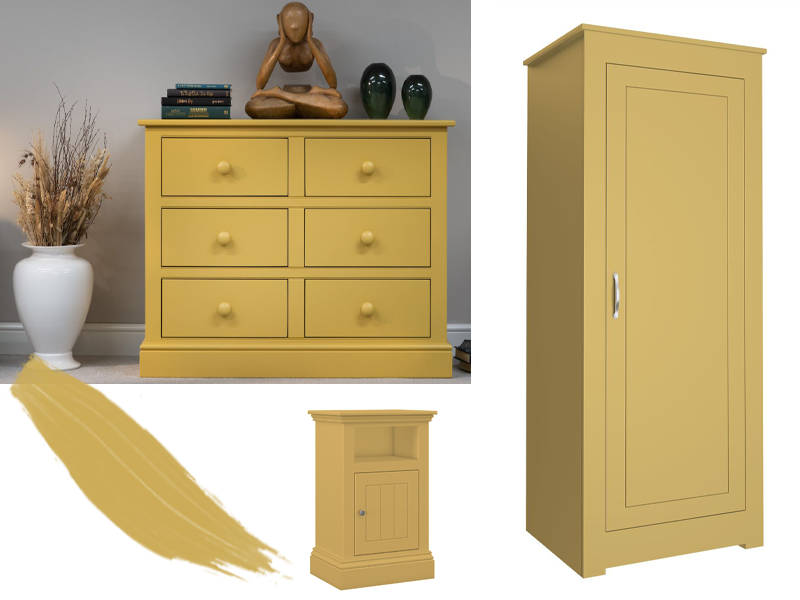 Spicy Mustard

Whilst not as bright as yellow, mustard is a fantastic shade for warming up the home over Winter, featuring tones of red that make it feel cosy. It is bold enough to use as an accent colour, for example adding a few simple scatter cushions to a grey sofa, or a mustard bookcase to a bedroom is just enough to lift a whole scheme. Adam comments, "People often shy away from using yellow in the home but the right shade can create a real focal point in the room. I love it when used on bedside tables and in a blue bedroom scheme it packs a great punch, really standing out against the calmer wall shade. For kitchens, mustard was named by Mylands Paint as one of their top 5 kitchen colours for 2022 and whether you're brave enough to go for all-out painted cabinetry or just a splash for the finishing touch, the mustard trend looks like it's here to stay."

Like what you see? Browse our painted furniture or call our friendly team at the Painted Furniture Company and we will be happy to help you achieve your perfect colour scheme.

The Paint Room
View all the colours and wood finishes we have available for our bespoke furniture. Take a look and order your samples today.