What Colours Go with Grey Painted Furniture?
16 Apr 2021, 5:50 PM
What colours go with
grey painted furniture?

Interior design, it seems, is always changing. This is especially prevalent when it comes to colour schemes for your home. What is widely beloved one year can be swept away by a new trend overnight - however, there are some staple shades that are both incredibly popular and beautifully timeless.
Gorgeous grey is here to stay, whatever your home design desires are. From cottage-inspired environments to industrial chic areas, you can incorporate a grey shade to suit your style. An excellent way to bring classic grey to your home while still allowing other colours to shine is by having grey furniture and building your colour scheme around it. It may feel, however, that this is easier said than done. It can be hard to have an eye for colour beyond the classic combinations that everyone knows (black and white or beige and brown for example). But don't worry! In this article, we will take a look at some beautiful grey painted furniture and discover some colours that go with grey in a range of rooms.
‍
With all kinds of grey furniture available for any room, you are spoiled for choice as to how you create your perfect complementary home.

Brighten up the Grey
A neutral hue that is widely beloved, choosing grey furniture does not mean you have to stick to a grey colour scheme throughout your home. If you want to bring a splash of sunshine to your living room to get you inspired in the morning, a light and lemony yellow is the perfect accompaniment to pale grey living room furniture. Lemon and grey is a contrasting and yet very complementary combination that combines the calming neutrality of the grey tones with the cheerful freshness of light yellow.
‍
Looking for something a little bolder? You can create an even more striking look if you opt for a deeper, richer yellow tone and match it with a darker grey style of furniture. This can work well for a room with just a couple of statement pieces of furniture, such as a large bookcase or even a dining room space. Rather than giving your room a cottagey feeling, this works better for creating an artistic, industrial style that is very modern.
‍
With Ultimate Grey (which falls somewhere in the middle between paler and darker shades of grey) and Illuminating (a sunny yellow) being Pantone's colours for 2021, combining your own favourite greys and yellows could not be more on-trend for the new year.


Mellow Grey Minimalism
A simple colour scheme is always in style and minimalism is not going anywhere in 2021. Have you pared back your home and are now looking for a way to reflect your new vision into your interior design?
‍
Grey may not be the obvious choice for a minimalist home, where whites and magnolias reign supreme. However, it is a lovely addition to interiors with clean designs and a lack of extra decoration.
Grey painted furniture, either in a darker or lighter tone, can complement an existing neutral colour palette perfect for bringing out the beauty of simplicity.
‍
This can work especially well in kitchen/diner spaces, where there is often a more plain colour scheme by design. A grey painted dining table can look beautiful when complemented by beige and white tones. This kind of colour palette provides a calming atmosphere which is ideal for popular communal areas within your home.
‍
Even if you are not quite the minimalist type, this colour scheme can look beautiful throughout your home. It creates a clean and fuss-free base, ideal for highlighting your decorative choices, whatever they may be.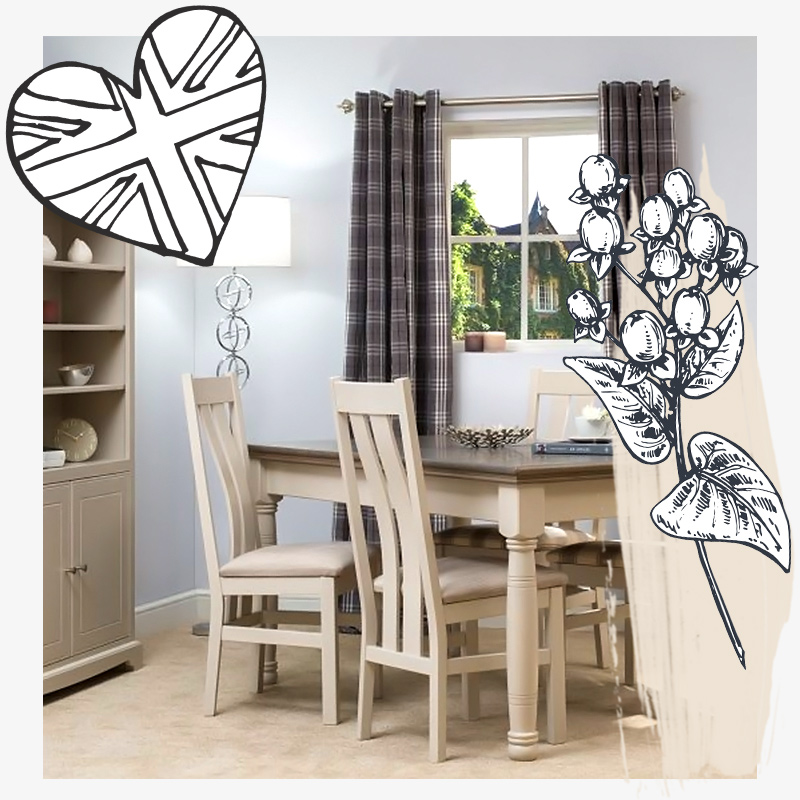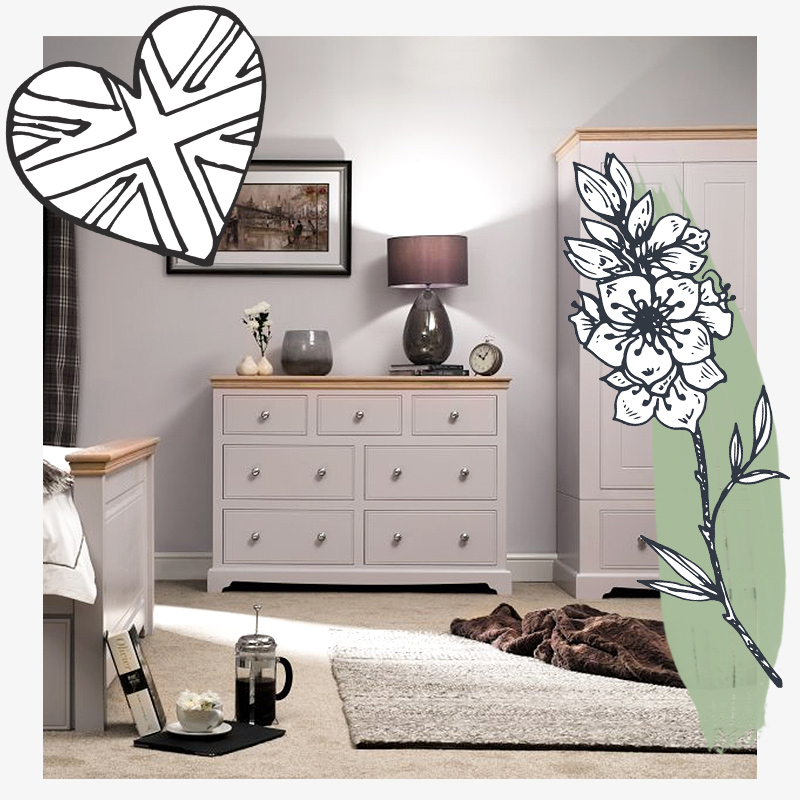 Grey with Notes of Nature
As we have said, grey painted furniture creates an excellent neutral palette and can be combined with a fantastic range of colours. One of the most popular colour combinations with a paler grey is a gentle sage green. Many variations of green work with grey tones, however for a pastel bedroom with grey bedroom furniture, sage is a beautiful choice. It provides a sense of peace and brings a hint of nature into your home.

Choose a sage green feature wall and soft furnishings such as blankets and throws to create a tranquil space that perfectly offsets grey wardrobes or your bedside chest of drawers.
‍
You can even blend this with darker grey for your curtains for a calm yet layered multi-tonal look. Taking inspiration from nature to create your perfect interior is a big trend for 2021, and this is a wonderful way to create your own comforting and natural sleep space.
‍
This can also be a fantastic choice for your kitchen, as you can add plants to accentuate the natural element of your design - this is especially beneficial if you want to create a look based around popular cottage looks. Or perhaps introduce the green and grey combination into your home office space, as green is known to create a sense of balance - perfect for those stressful days.


Romantic Notes
It may seem like an inherently more masculine colour but grey can work better with shades that are more classically "feminine" than you might imagine. Grey can be quite a delicate colour which can work perfectly with a shade that has dominated interior design and even clothing choices for a while now - millennial pink.
‍
Ideal for bringing up to the minute modernity into your home without sacrificing a decorative edge, combine this soft, blushing pink with grey bedroom furniture and do not be afraid to add some extra ornamentation. While the pink and grey combination can look beautiful in a more pared-down room, it also works well when you add floral accents on soft furnishings, or hang some pictures which echo your colour scheme.
‍
Bring in a little twist of white for a colour palette that feels youthful and spring like, or vary the greys and pinks a little for a graduated look.
‍
The grey and pink combination can look gorgeous in any room, from living rooms and bedrooms to even bathroom spaces - you can make it work all across your home if you value uniformity.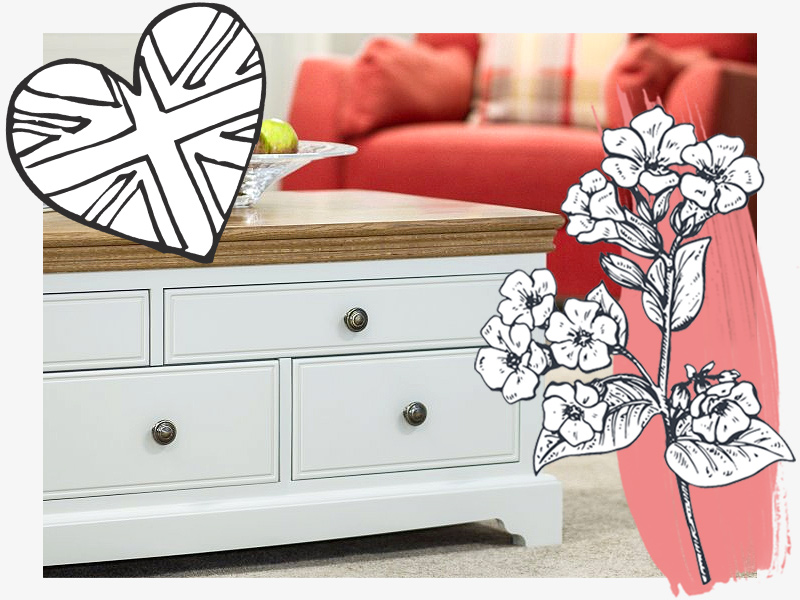 Create Cosiness
Jewel tones are set to be a big hit in the coming year, and it is no wonder. Rich reds and deep blues and greens are a luxurious way to design a living room that gives you the ultimate cosy feeling. Do you want to introduce deep, decadent jewel tones into your home without it feeling like too much?
‍
A wonderful way to offset the richness of jewel tones is by bringing in a touch of darker grey. With grey painted furniture, you can keep the feeling of cosiness while adding a little bit of modernity to your home.
‍
Grey goes especially well with lush reds. This will - accent your space with steel greys and you can play with jewel tones without worrying about them clashing.

Are you inspired to create a gorgeous space centred around your favourite shade of grey? With this inspiration and plenty of different tones of grey painted furniture to choose from on our website, you will be able to bring your own unique vision for your home to life easily.
‍
Here's just some of the shades of grey we can finish your handcrafted furniture with: